BUCKS
REGEL Smooth Criminal (10681833)
Sire: ERWIN Better Bring Your Game
Dam: BSA A Lil' Roxy
Smooth Criminal is a result from our first ever flush and we couldn't be more pleased with the results! Smooth Criminal is everything one looks for in a herd sire. He has a beautiful masculine head with a wide horn set that extends through his shoulders. He is packed with muscle from end to end. He is heavy boned and big footed. He is the epitome of what we are striving to produce.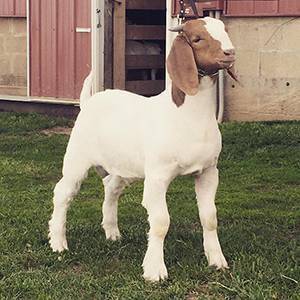 REFERENCE BUCKS
AABG Braggin Rights
- FOR SALE
Sire: AABG As Good As It Gets **Ennobeled
Dam: AABG 2DOX Rumor Has It
Braggin Rights is our first herd sire whom we purchased from Sandy Duncan of Able Acres Boer Goats. He was born sired by AABG As Good As It Gets **Ennobled , who sired the 2014 Reserve National Champion Doe. Braggin Rights is a very balanced buck. He stamps his kids with length of body and a beautiful head and neck. He has sired numerous champion wethers and does for us.