WELCOME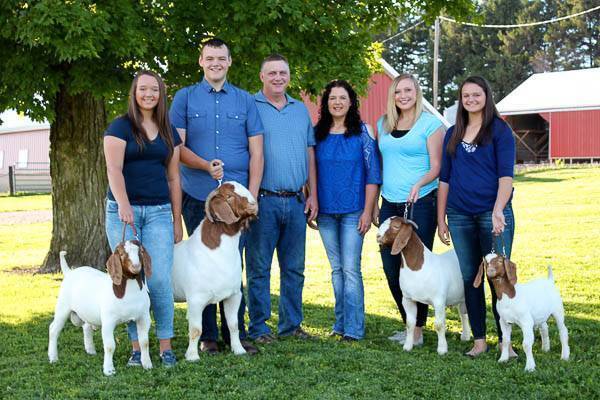 Welcome to the Regel Boer Goats website.  Regel Boer Goats is a family owned boer goat operation located in Hawkeye, Iowa.  Regel Boer Goats is owned by Joel, Amy and Austin Pagel and focuses on breeding and marketing outstanding show goats. 
The Pagel family has a long history in the dairy business.  Joel took over Regel Dairy (named after his father, Russel Pagel) after his dad passed away.  Regel Dairy was a very successful operation with a focus on genetics. In 2012, Joel sold the cows to spend more time with his family and to pursue other ventures.  The focus of the Pagel family is now 100% on the goat herd.  Regel Boer Goats strives to improve the genetics of their herd with every breeding and to make these animals available for purchase.
The Pagel family consists of Joel & Amy and their 4 children: Carly, Austin, Jenna and Cassidy. Carly is a graduate of Upper Iowa University with a master's degree in business administration and is employed by US Bank as a wealth management portfolio manager. Carly is married to Lee Parker. Austin graduated from Iowa State University with a major in ag business and is employed at Kerry Foods as a buyer. Austin is co-owner and manager of Regel Boer Goats. Jenna is a student at Iowa State University majoring in animal science. Jenna is in charge of the show string each summer for Regel Boer Goats.Cassidy is a senior at Sumner Fredericksburg High School and enjoys playing sports and showing goats. The entire family is very involved with 4-H at the county and state levels and enjoy showing their goats all over the Midwest.